Expert Mobile / RV Solar Design and
Professional Solar Installation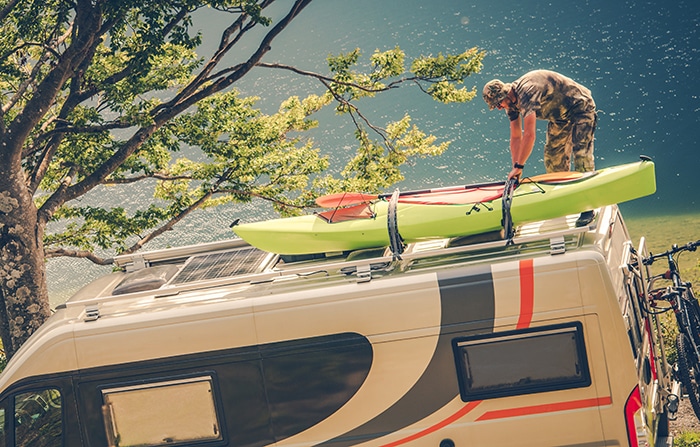 How do you get your power? If the answer isn't that you get power through solar panels, you may be losing quite a bit of money. Although the initial cost may be a bit high, you'll end up saving money in the long run. We're going to help you determine whether or not installing solar panels on your RV is the right choice for you.
What Solar Panels Add
As someone who travels frequently, you understand the value of a good deal. When you install solar panels on your RV, you get several benefits:
Freedom: Whether you're traveling short-term or long-term, you chose to travel in an RV to give yourself freedom. When you rely on traditional means of energy, you have to hook up at camp sites. With solar energy, you can sleep wherever you want.
Peace: Solar panels are virtually silent. There aren't any generators or any other annoying sounds. Simply drive down the open road and store up energy as you go.
Simplicity: With solar energy, you don't need fuel or campsites, and maintenance is relatively minimal. All that you have to worry about is getting to your next destination.
You're Green: When you switch over to solar energy, you reduce your carbon footprint significantly. You can travel in peace knowing that you're doing your part to keep the world clean.
Saving Money: Although the upfront cost may seem a bit high, you'll save money on energy in the long run. That way, you can travel longer.
To determine whether it makes sense for you to convert your RV to solar energy, you first need to decide what kind of traveler you are. There are three categories: weekend warrior (travels primarily on weekends), boondocker (stay for long periods of time at campsites and dry camping), and full-timers (spend most of their time at campsites)
Basically, converting to solar energy makes the most sense for those who would classify themselves as boondockers. Weekend warriors don't use their RV enough for it to make financial sense to convert to solar, and full-timers generally already pay for power when they pay their fee for the campsite.
However, those who classify themselves as boondockers generally spend a lot of time away from campsites in places without power hookups. These people will get significant use out of their solar panels.
You can pick up solar panels for your RV for as low as $150 for just one panel and on up from there (around $2,000 for a deluxe kit).
4 Simple Steps to go Solar
Solar Consultation
We'll meet with you to collect data, measure the area, and then decide what products will fit your needs.
Agreement
Once you're happy with the agreement, sign the proposal, make a down payment, and provide us with your APS login information.
System Design
The Pur Solar design team will get to work creating your custom solar solution, as well as obtaining installation permits.
Installation
Depending on your project size, installation takes about 1-4 days to complete. Once green tagged APS shows up within two weeks.
Pur Solar & Electrical did a very professional job!
"Pur Solar & Electrical did a very professional job on the new system for our cabin. The system has exceeded our expectations – even on overcast days. We are happy to recommend their service."

We at Pur Solar & Electrical of Northern Arizona strive to provide the most professional installation with the best product on the market.
Find Out How Much Pur Solar Could Save You!
If you're curious about whether a solar energy system is right for you and your RV, feel free to contact one of our experienced professionals for more details.