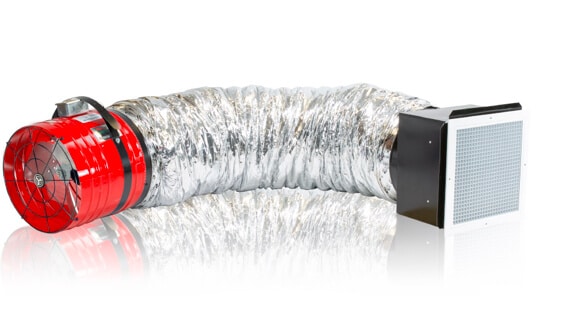 TIPI PRO 1.5 Specifications
Motor Voltage: 120 VAC, 60 Hz
Energy Use: Hi: 323 Watts / Low: 274 Watts
Air Flow: Hi: 3216 CFM / Low: 2890 CFM
Recommended SQFT Coverage @2CFM per SQFT: Covers up to 1610 SQFT
Number of Speeds: 2
Duct Diameter: 16″
Duct Length: 6ft.
Motor Head Diameter: 16 1/2″
Motor Head Length: 13 1/2″
Dampers: Barometric Pressurized R5 Dampers
Controls: included 8 Hour Electronic Timer and HI-LOW-OFF Switch
Warranty: 15 years
Framing: None Required
Joist Cutting: None Required; fits 16″ or 24″ on center
TIPI PRO 1.5 Specifications
Motor Voltage: 120 VAC, 60 Hz
Energy Use: Hi: 323 Watts / Low: 274 Watts
Air Flow: Hi: 3216 CFM / Low: 2890 CFM
Recommended SQFT Coverage @2CFM per SQFT: Covers up to 1610 SQFT
Number of Speeds: 2
Duct Diameter: 16″
Duct Length: 6ft.
Motor Head Diameter: 16 1/2″
Motor Head Length: 13 1/2″
Dampers: Barometric Pressurized R5 Dampers
Controls: included 8 Hour Electronic Timer and HI-LOW-OFF Switch
Warranty: 15 years
Framing: None Required
Joist Cutting: None Required; fits 16″ or 24″ on center
TIPI PRO 1.5 Specifications
Motor Voltage: 120 VAC, 60 Hz
Energy Use: Hi: 323 Watts / Low: 274 Watts
Air Flow: Hi: 3216 CFM / Low: 2890 CFM
Recommended SQFT Coverage @2CFM per SQFT: Covers up to 1610 SQFT
Number of Speeds: 2
Duct Diameter: 16″
Duct Length: 6ft.
Motor Head Diameter: 16 1/2″
Motor Head Length: 13 1/2″
Dampers: Barometric Pressurized R5 Dampers
Controls: included 8 Hour Electronic Timer and HI-LOW-OFF Switch
Warranty: 15 years
Framing: None Required
Joist Cutting: None Required; fits 16″ or 24″ on center
TIPI PRO 1.5 Specifications
Motor Voltage: 120 VAC, 60 Hz
Energy Use: Hi: 323 Watts / Low: 274 Watts
Air Flow: Hi: 3216 CFM / Low: 2890 CFM
Recommended SQFT Coverage @2CFM per SQFT: Covers up to 1610 SQFT
Number of Speeds: 2
Duct Diameter: 16″
Duct Length: 6ft.
Motor Head Diameter: 16 1/2″
Motor Head Length: 13 1/2″
Dampers: Barometric Pressurized R5 Dampers
Controls: included 8 Hour Electronic Timer and HI-LOW-OFF Switch
Warranty: 15 years
Framing: None Required
Joist Cutting: None Required; fits 16″ or 24″ on center
TIPI PRO 1.5 Specifications
Motor Voltage: 120 VAC, 60 Hz
Energy Use: Hi: 323 Watts / Low: 274 Watts
Air Flow: Hi: 3216 CFM / Low: 2890 CFM
Recommended SQFT Coverage @2CFM per SQFT: Covers up to 1610 SQFT
Number of Speeds: 2
Duct Diameter: 16″
Duct Length: 6ft.
Motor Head Diameter: 16 1/2″
Motor Head Length: 13 1/2″
Dampers: Barometric Pressurized R5 Dampers
Controls: included 8 Hour Electronic Timer and HI-LOW-OFF Switch
Warranty: 15 years
Framing: None Required
Joist Cutting: None Required; fits 16″ or 24″ on center
TIPI PRO 1.5 Specifications
Motor Voltage: 120 VAC, 60 Hz
Energy Use: Hi: 323 Watts / Low: 274 Watts
Air Flow: Hi: 3216 CFM / Low: 2890 CFM
Recommended SQFT Coverage @2CFM per SQFT: Covers up to 1610 SQFT
Number of Speeds: 2
Duct Diameter: 16″
Duct Length: 6ft.
Motor Head Diameter: 16 1/2″
Motor Head Length: 13 1/2″
Dampers: Barometric Pressurized R5 Dampers
Controls: included 8 Hour Electronic Timer and HI-LOW-OFF Switch
Warranty: 15 years
Framing: None Required
Joist Cutting: None Required; fits 16″ or 24″ on center
TIPI PRO 1.5 Specifications
Motor Voltage: 120 VAC, 60 Hz
Energy Use: Hi: 323 Watts / Low: 274 Watts
Air Flow: Hi: 3216 CFM / Low: 2890 CFM
Recommended SQFT Coverage @2CFM per SQFT: Covers up to 1610 SQFT
Number of Speeds: 2
Duct Diameter: 16″
Duct Length: 6ft.
Motor Head Diameter: 16 1/2″
Motor Head Length: 13 1/2″
Dampers: Barometric Pressurized R5 Dampers
Controls: included 8 Hour Electronic Timer and HI-LOW-OFF Switch
Warranty: 15 years
Framing: None Required
Joist Cutting: None Required; fits 16″ or 24″ on center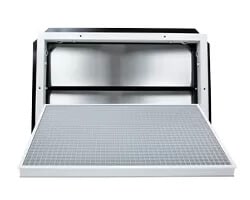 R5 Damper Box with Removable Grille
QuietCool's damper system features barometric pressurized gravity dampers that prevent heat/cooling loss between the home and attic. Traditional whole house fans that have older style shutters offer zero R-Value. The removable egg‐crate grille is very easy to remove and clean. During the colder months of the year, a homeowner can also apply the R40 Winterized Kit option to seal the QuietCool damper box with R45 value.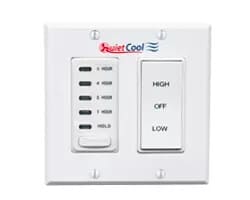 Every QuietCool Trident Pro models include the standard manufacturer wall‐switch controls. This includes an Electronic 8‐Hour Countdown Timer and a single or multi-speed control switch (if applicable). Be sure to contact us if you have any questions about switches and timers for QuietCool whole house fans.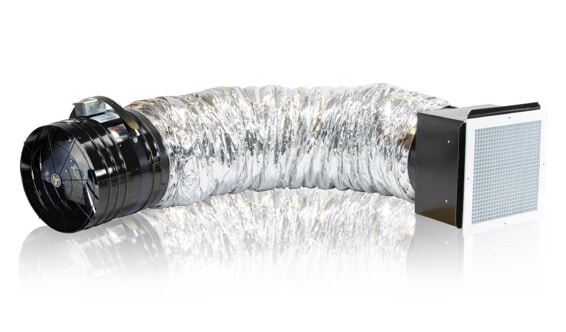 Since 1974, Pur Solar and Electrical has been a full-service Arizona electrical contractor. Our extensive experience with every aspect of residential and commercial electrical services is what sets us apart.
We will successfully complete your project with the utmost attention to quality and safety. We offer 24/7 electrical service, and all of our work is backed up by our 100% satisfaction guarantee.